Mansour ... wrote:
+1. Would be very useful
That would be awesome...

***Additionally...I would love to see an "open all" & "close all" for properties...I usually open them all the first thing anyway.

MJ
regarding opening rlmp files with rsd...
it seems that when I do, that sometimes the picture elements and/or font icons / glyphs do not carry over to the rsd file. Is there a way to make them do so???
Thanks,
MJ
Scott Swedorski wrote:
Michelle Carney wrote:
Scott,
yes, it came with the
Autumn-theme.rlmp
file which can be opened up in RSD.

That is a Responsive Layout Maker template. When you open it in RSD, it will convert it to an RSD project. Make sure you are also using v1.5 as Bill stated as the website link you shared is created with the older version of RSD. Once you do upgrade, post any screenshots, project files, and website links so that we can offer some suggestions. The more data, the better.

mark johnson wrote:
I would love to see an "open all" & "close all" for properties.MJ
If the reference is to 'Show Guides', I heartily agree.
Frank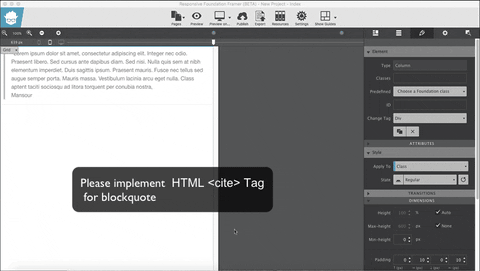 Guys at coffeecup are awesometacular.
Love your RSD app. But, it would be great to add the following functionality in future releases.

1. Have the ability to view AND edit the code... HTML, CSS, Java Script within the application and not post export. With an adjustable split screen view

2. Provide the ability to add trigger and timed effects to objects, like slide, fade, spin, scroll, squeeze, grow, stretch, bounce, etc. I am surprised they are not included now as these are very common features on sites.

3. Provide an online collaborative product of RSD for multiple designers using your app from different locations.

4. Include multiple menu/nav bar options and nav bar animations

5. Have multiple, predefined button functions when adding a button such as email, phone, anchor links and external links without having to code this functionality in by hand. This would speed up development time.

6. Allow the ability to add hyperlinks to any object selected

7. Add tools for basic shapes with color, sizing and shading effects

8. Add functionality to easily upload custom fonts
It would be great to add some of the functions that have been implemented with FF in the layout section
Containers (That can now be nested)
Remove the pixels information on the slider for breakpoints, this is one thing that many new users cannot get their head around is; it's the design they should be looking at not the size. If that slider thingy didn't have pixels size to reference, possibly new users would get their head around what breakpoints are there for more quickly and easier.
Mastering The Understanding With Hands-On Learning
NEW TO
"COFFEECUP SITE DESIGNER" FOUNDATION 6 FRAMEWORK?
STUCK ON SOMETHING?

LEARNING & UNDERSTANDING "THE HOW TO"? THE WHY'S & THE WHEREFORE'S?
WITH WAYAN'S STEP BY STEP TUTORIALS

I can make "INDIVIDUAL BESPOKE" step-by-step video tutorials
for you to watch at your leisure as many times as you need

I have also started updating the ready made step by step tutorials, Ready Soon

my secure email details form
https://rsd-tutorialscom.coffeecup.com/ … l-details/

---
Have something to add? We'd love to hear it!
You must have an account to participate. Please Sign In Here, then join the conversation.