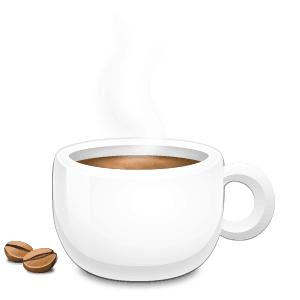 CoffeeCup Software, Inc. was founded in 1996,
but the roots of our name goes back a bit further.
Here is how it all started: It began in a real coffee shop in 1994. It was the only place in town (and one of only a dozen or so worldwide) that offered free Internet access so people could come by, order a Cappuccino and surf the Web which was quite new at the time. As more people were exposed to the Internet, more people wanted to be a part of it.
Now with all these computer junkies as guests, it was clear that the coffeecup.com domain name needed to be purchased and a Website for the coffeehouse made. The coffee shop got a little press from TV and the local newspaper and other businesses started to call about making Websites for them too. Back then in the early days of the Internet, good software to easily create good looking Websites was really hard to find. So as with the first Website for the coffeehouse, these Websites were made with hand-coded HTML using Notepad.
One day, while chatting with a few regulars about creating Websites, the idea of a simple yet powerful HTML Editor was born. We wanted to create a nifty piece of Software that would make it easy for people like us to build our own Websites. One of the regulars was a programmer so we got to work and in August of 1996 the first version of our HTML Editor was released. Since the coffeehouse already had the www.coffeecup.com domain name, our first software program was called the CoffeeCup HTML Editor, and the company named CoffeeCup Software. The software was posted on the Website and it was an instant hit. People from all over the world were downloading the program and emailing their praises.
At the same time the coffeehouse started getting parking problems. You see, the coffeehouse was quite popular and people often parked along the street. This apparently was a problem to the City of Corpus Christi. The City Council suggested to buy more land and put in a new parking lot, but that would be an expensive adventure. Besides, creating software was a lot more fun and with that amount of money a whole new program could be built!
Soon the coffee shop was closed as we focused on creating and releasing shareware applications like the Image Mapper and DirectFTP. After some time the efforts began to pay off as more and more people started using (and paying for) the software. The rest is Internet history.
In the last 10 years we have moved to larger offices a few times, started a Web Hosting Company, a Search Engine Submission & Optimization Service, and created over 25 other software programs so that others could fulfill their dreams too.
Now with over 54,907,053 users worldwide, and software sold in over 87 countries, CoffeeCup Software has grown beyond our wildest dreams. We have won lots of Awards including being #400 in the Interactive 500, a ranking of the best Internet and E-Commerce companies. We still remember the good old days though when we were just a small Coffee House. We strive to keep that same level of personal service with a smile that went with every cup of steaming hot Cappuccino.
Learn More about the CoffeeCup Team
To All Our Users (you know who you are...)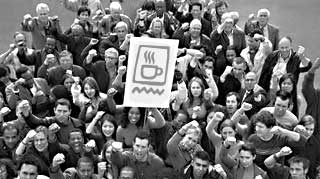 Without the Support and Feedback of those who Download and Buy our Software we wouldn't be here. We are very lucky to have so many people think our software is great over the years and we are proud that you still do.
Thank You Everyone!