Web forms are one of the most important parts of your website because they give your visitors a voice. However, creating them from scratch can be pretty difficult—and then there's all that tough back-end stuff!
That's why Web Form Builder Lite does the dirty work for you: Just drag elements into place to see your form come to life. When it's ready for the web, you can publish to our servers with a single click. There's no need to configure anything, since form results are displayed automatically in a slick overview (we call it the S-Drive Dashboard). Plus, you can embed forms anywhere—including your shop, blog, forum or website—without uploading any scripts.
Web Form Builder Lite doesn't cost a thing, and you can sign up for a form hosting account for free. Yes, you can get started without spending a dime! But if you like having full control, you can always get the full version. Just export the form, tweak it to your heart's desire, and have your own server do the heavy lifting.
Download Lite Version
Get Full Version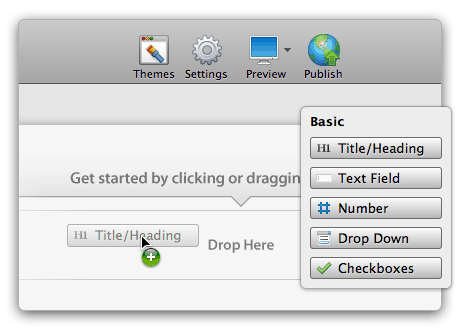 Dream it Up—Drag it In
The form you've been dreaming of can be whipped up in seconds. Registration forms, order forms, surveys, invitations, applications, contact requests, subscriptions—tackle the unlimited possibilities as often as you want. Drag input fields and other form elements where you want them, then adjust text, labels, and options to your liking. Voila, your new web form has been born!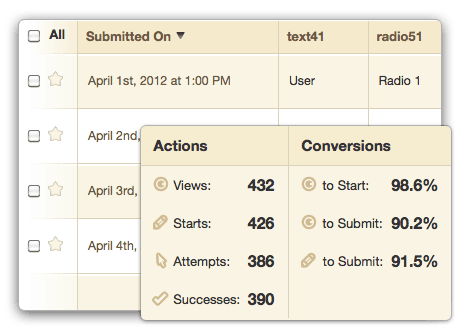 Let Our Servers Do the Work
When you host your forms on our servers, S-Drive puts everything together for you. Upload and update your forms by simply entering your CoffeeCup account information. You can add these forms to an existing webpage with one simple paste, or if you prefer, you can just link to a full page version that stands on its own.
Form results arrive in a manageable interface so you don't have to mess with any complicated databases. Form statistics are automatically tracked and reported so you can see how many people viewed your form, how many started filling it out, and how many completed it. Form entries can be routed to different email addresses and are easy to download for local use or follow-up.